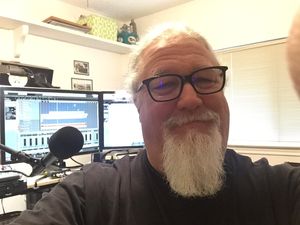 Greetings friends, fans, et al. Sorry it's been so long since I've posted. (My social media skills are sorely lacking.) Sales of What Would I have to Do and Sand Castles are going well. In the meantime I've had my nose to the grindstone dealing with the steep learning curve, learning to deal with all the new tech that will allow me to do true "solo" shows. I had considered gathering a band together in the traditional way for gigging. But with all the interest I've received from far-flung fans, traveling with a full band is just impractical. (Read too damn expensive.) 
So now, I'm recording all the necessary backing tracks and storing them on a little gizmo that allows me to start and stop them as needed. This will also allow me to play small venues and "house concerts" (literally an intimate concert for 20 or 30 people in somebody's living room or back yard) pretty much anywhere. I'm on path to be ready to head out to perform this summer. If any of you are interested in hosting a show, get in touch with me at wes@wesgraham.com and let's see if we can set it up. 
In the meantime, I've been recording my rehearsals and I'll soon post links to some of the songs I'm working on. They'll be works in progress but will give a little idea of what a show would sound like.